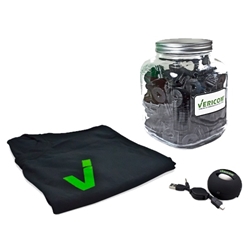 Vericom Guessing Game
Knoxville, TN - April 15, 2015
Everyone loves a good guessing game! We stuffed as many of our Single Feed-Thru Bushings in the this jar. How many do you think we managed to get in the jar?
The closest guess will win a Free T-Shirt, Bluetooth Speaker, and a bag of Feed-Thru Bushings. You can submit your best guess via Twitter, Facebook or Google+. The winner will be announced next Friday, May 15th.
Now let's take a moment to tell how useful these Feed-Thru Bushings can be in your next install. Bushings are handy solutions for routing cables during installation. The plastic molded design ensures the cable doesn't get pinched or cut during installation. They are a must for every wall or floor penetration. Check out our wall bushings selection, along with our other Wire Management products.