Racks & Cabinets Buyer's Guide

HOW DO THEY HELP
Racks & Cabinets are frame structures specifically built to mount IT production equipment (servers, storage, network switches, routers, and telecommunications hardware). They're also designed to accommodate IT infrastructure and accessories such as UPS systems (uninterruptible power supplies), PDUs (power distribution units), cable managers, KVM (keyboard, video, and mouse) switches, patch panels, and shelves/drawers that support the operation of production equipment. Bottom line – they allow you to easily organize, secure, and manage the cabling of all of your IT equipment/infrastructure/accessories while enabling airflow.
WHERE ARE THEY USED
Server rooms and data centers
Audio/video installations
Closets housing telecommunications equipment
Industrial environments (ex. factory floor)
WHAT TYPE DO YOU NEED
If you simply seek an economical way to organize IT equipment, we recommend our Relay Racks.
Point to Remember: Our Relay Racks sport an open-frame to provide easy access and plenty of space for cable management, making them a great choice for network wiring closets and distribution frame applications with high-density cabling.
If you need to securely house IT equipment in an unconventional area or site with limited floor space, go with our Wall Cabinets.
Point to Remember: Our Wall Cabinets attach to the wall to save floor space, lock to secure equipment, and easily adapt to most work areas, even those never originally intended to house network equipment.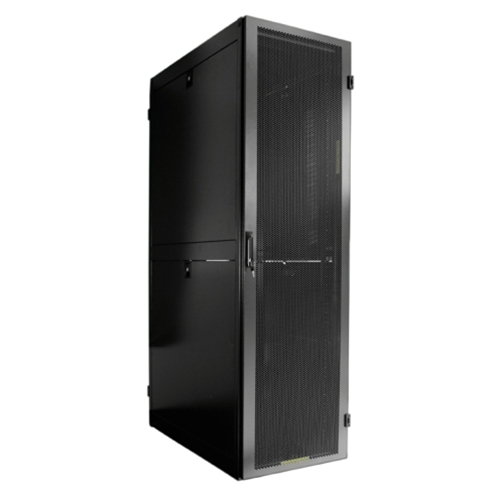 If access control and equipment protection is vital for you, we suggest our Floor Cabinets.
Point to Remember: Our Floor Cabinets lock to secure equipment, are flexible when it comes to cooling options for active and passive airflow management, and are perfect for applications requiring heavier equipment, hotter equipment, and higher wattages per rack.
WHAT SIZE DO YOU NEED
Height – The height of a rack or cabinet is expressed in the number of available rack units (U). Height is a significant consideration because it determines how many rack spaces can be used to house your equipment. Our wall cabinets come in 9U, 12U, and 15U, with our relay racks and floor cabinets available in 42U and 47U. Assess the amount of rack space you need based on the size of the equipment you want housed (ex. a 2U server would occupy two of the available rack units in one of our relay racks, wall cabinets, or floor cabinets). You may also want to consider leaving extra space for cable managers, future expansions, or other purposes.
Depth – Depth is crucial because a rack or cabinet has to be deep enough for you to install your equipment inside. Our relay racks are an excellent depth for housing A/V equipment, and our wall cabinets are terrific for patch panels and switches. When dealing with servers and extra cabling, our floor cabinets will provide the depth you need.
Static Loading Capacity – All racks and cabinets have a weight limit. Choose one that has a static loading capacity greater than the total weight of your equipment so it can safely support it. Additionally, if you're interested in one of our relay racks or floor cabinets, ensure your facility's floor can support the weight. For our wall cabinets, remember to confirm your wall and fasteners will be able to hold the combined weight of the cabinet and the equipment you plan to install.
WHAT ACCESSORIES SHOULD YOU CONSIDER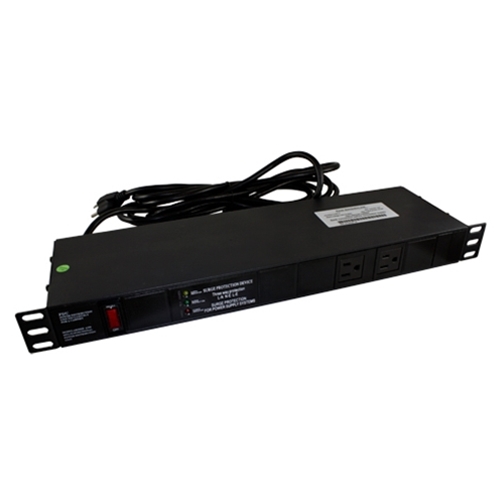 Most equipment you'll be installing in your rack or cabinet will probably require many power outlets. You may also need a solution for reaching distant wall outlets. We offer a Rack Mount Power Distribution Unit (PDU) to remedy both problems. Using only 1U, our PDU features a front panel with 2 AC outlets, a lighted On/Off switch, 3 status indicator lights, and 10 additional AC outlets on the back panel.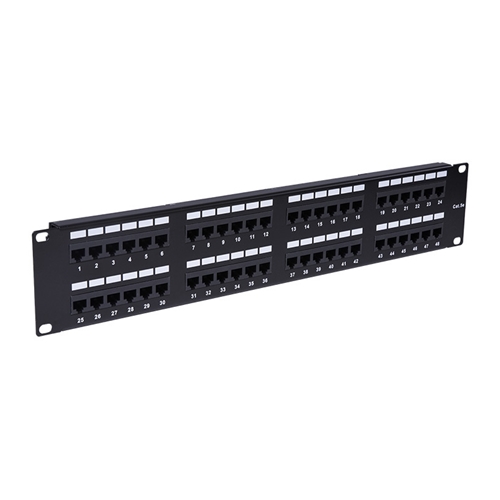 If you're setting up a wired network that includes multiple wall ports in numerous rooms, making a patch panel part of your structured cabling system is the way to go. In essence, patch panels are a collection of ports on one panel, with each port connecting via a patch cable, to another port located elsewhere in your building. They produce a neat look, are easy-to-manage, help to lower maintenance costs, and work to prevent installation and configuration errors. We carry a wide variety of patch panels to help address your specific needs.
HOW TO ORDER
We make the entire ordering experience easy. Please contact us and our experienced team will assist you through every step, from helping select which rack or cabinet is best for you to explaining what to expect once you've placed your order.
Vericom Global Solutions
Phone: (865) 671-4455